Digital Nati Profile -  Hana Parata - Walker
Digital Nati Profile -  Hana Parata - Walker
NAME: Hana Hekia Parata-Walker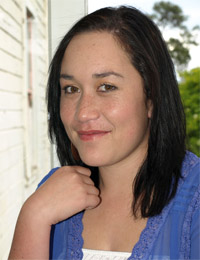 AGE: 18
IWI: Ngai Tahu and The Ultimate Ngati Porou
FAV KAI: B.K triple cheese burger combo upsized to Large, with a Raspberry drink!
FAV ICE CREAM: Jelly tip
FAV MOVIE: Remember the Titans, Pans Labyrinth
What East Coast school/s did you attend?
Mangatuna, Te Kura a rohe o Uawa
What are you studying at South Seas?
I am currently majoring in Production.
What kinds of projects have you worked on at South Seas?
Documentaries, short dramas, studio shows, role-plays. You have a shot at everything, including acting and presenting, editing, directing etc. So that you are able to get a feel for each different specialisation and what they involve
What do you enjoy about being at South Seas?
The friends I've made, the skills I've learnt and the way it pushes you out of your comfort zone and seriously makes you think about the decisions you make.
Why did you want to go to Auckland to study at SouthSeas?
I wanted to get away from home and have a shot at looking after myself. Also a few of my friends were going and I read the prospectus which included names of people from previous years who are making it out in the industry
What training/ experience in the media did you do at school?
I did media studies for around 3-4 years at Tolaga Bay Area School making amateur films/ docos. Filming/ taking photos at school trips and of different guests we had coming to school, stuff like that
How many Te Rangitawaea Festival's did you attend and what was the best thing you enjoyed about going to them?
I attended three but had entries in four. I love the Te Rangitawaea festival. It's a great way to get to know your relations from up the coast but also you get to exercise your strengths in different forms of media and all the while you're enjoying yourself throughout the process.
What study/mahi should rangatahi do if they want to get into the media?
Watch movies! Watch T.V. Practise being early. Brush up on your reo because I swear it will help you out! And if you can draw why not try animation? I heard it is the way of the future... and if you don't really like exams and paperwork think about being a cam-op. I'm not saying its a walk in the park, but if you get really good you could get to film active volcanoes, go on tour with the All blacks etc… The possibilities are endless
What do you want to do in the future?
If I end up in the media industry I want to travel abroad doing small budget indie films/ docos … maybe visit Jamaica. I hope to gain some good experience in editing and become a post-producer. Go and help on other productions, build some credibility and try and become a movie mogul/ big wig producer at TVNZ or even go into advertising. I'm not 100% sure yet but the sky is the limit!
What advice do you have for rangatahi to achieve their goals and to make it in the media?
Have a positive attitude, keep your eyes peeled for work experience don't be afraid. There are plenty of people in the same waka if you don't know what is expected of you then ask questions- just don't make the same mistake twice. And second to last - DO NOT EVER be late for anything in the media industry! If you say you are going to be 5 minutes then mean it. Being 2 minutes late is like being 2 days late. I learnt the hard way and it was sad so take heed! And remember its not what you know its who you know sooooo what are you waiting for?
Go out and make some contacts!