Digital Nati Profile - Candice Davis
Digital Nati Profile - Candice Davis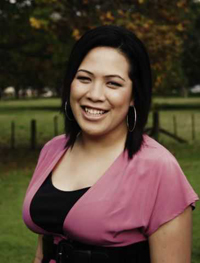 NAME: Candice Davis
AGE:19
IWI:Ngati Porou, Ngati Maniapoto, Ngati Porou ki Harataunga, Cook Island
FAV KAI:Pizza, Chicken, cheese buns, sweet chilli deli roll (the healthy Mac Dz kai)
FAV ICE CREAM:Orange chocolate chip
FAV MOVIE:Apocalypto, brother bear
What East Coast Schools did you attend?
I attended Hatea-a-Rangi school in Tokomaru Bay for my primary and intermediate years then went to the big kura of Tolaga Bay Area School aka Uawa!
What's your job in the media?
I am currently working as a TV presenter for the new Maori youth show called 'I AM TV' on TV2 Saturday's 10am.
How did you get your job?
How did I get my job, haha funny one that one, well I was sitting at home the start of this year after I had returned home from America and I saw the add on TV where they were searching for a new presenter to join the I AM TV crew. I thought about it, then other whanau and friends said I should, and they didn't even know I was thinking about it. I got my nephew to help me film some stuff around the Bay, interviewed some members from the local youth group, gave a little info about myself then mixed it all together with music, titles, transitions etc... made it two minutes long then uploaded it to the I AM TV bebo pagewww.bebo.com/iamtv.
Later they called me up and asked me to come to Tamaki for an audition, which I did along side eight others, then eventually I got the call to see if I would like to take the position as the new TV presenter, which I took buzzing! And now here I am.
Did you always want to work in the media?
I did want to be apart of media, but my ultimate vision is to become a music manager or producer. But being in television was a goal I had set for myself at school.
Did you have some broadcasting/ presenting idols when you were at school?
I always wanted to work for Mai Time, kia ora to that! But Marama from Pukana always cracks me up also Matai Smith (roll your chicken). In broadcasting well I just love Mai FM Nui FM and Flava FM, so who ever is on those, I like them haha. But usually I looked up to MC's at concerts or festivals like Parachute, the one's who are real funny, not dry, and can pull it all off live!
What training/ experience did you do to get your job in the media? When you were at school? After school?
While at school I took part in the Te Rangitawaea festival media team as a presenter, also done a gateways course with Classic Hits Radio in Gisborne. I was an East Coast Media representative for Tearaway magazine, and I also studied at Excel school of Performing Arts majoring in Vocals. Along side all of the above, live performances for kapa haka and church have also helped get me here today.
What do you enjoy about your new job?
First of all the fact that I have a job is mean, and of course getting paid!
But a mean highlight is the travel. We travel a lot all around the motu catching up with the talented rangatahi and hearing their stories! I make me some friend's haha.
What skills do you use in your job?
Skills would have to be, communication, to talk and interact with who ever. Be organised and prepared for your shoot. Creative, come up with fresh and new ideas. Humour, which aint too hard for the Coasties! But a major skill will be to define who you are as a presenter, know what you have to bring, and keep challenging yourself. Know 'you' so that you won't turn into someone else's character.
What study / mahi should rangatahi do if they want to get into the media?
Any work experience or workshops for media that come up at school, go for it, because there usually free or real cheap. Bonus! Otherwise any other media course such as Southseas in Auckland or a drama school will be a big help as well, otherwise anything to just give you experience and knowledge.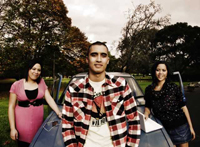 What advice do you have if they want to do it as a career?
My advice would be, if you want it then go hard. Gather as much support as you can from whanau, friend's, your kura, the rohe and represent them well.
Nobody else is going to get your career for you cuz!